Development Update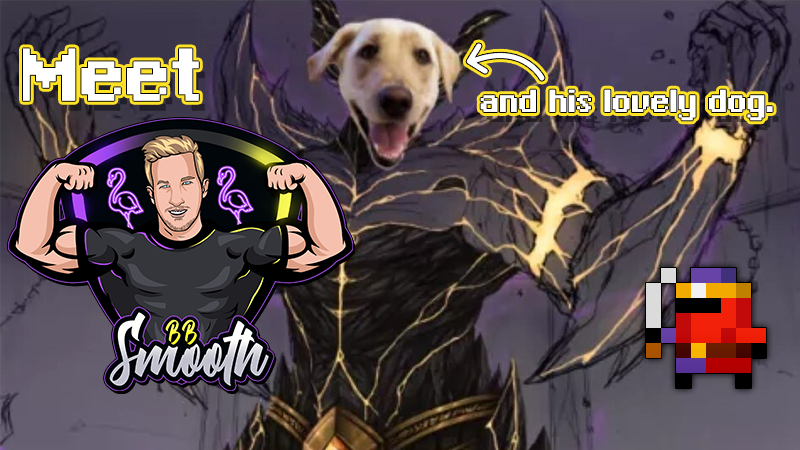 He's the newest addition to the DECA Content Partners and we thought that this would be the best way to welcome him to family. Meet BB_Smooth.
Name, Nationality and Age?
Travis Smooth, Texan :), 26
Is making content your main activity? 
I have been a full-time content creator (primarily streamer) for the past 8ish months. I also do a little personal training
Any hidden talents or hobbies?
I have skill issues but these are not hidden.
How and when did you start playing RotMG?
9 years and 249 days ago I was in the shower, slipped, hit my head, and woke up in Realm of the Mad God.
Favorite Class, Dungeon, and Item?
My favorite class is Kensei. Jk I like wand classes but hate wands. In other words I like wand class abilities. (please rework sorc scepters to make them cool and aimable) The favorite item would be scripture as it is one of the most class-changing abilities in my opinion the game could use more cool UT's that change the class's purpose. Favorite dungeon music-wise- Pirate cave. Aesthetically- Crystal Cavern tied with The Shatters. Gameplay- O3 🙂
What other games do you play?
I play RAID SHADOW LEGENDS JOIN NOW to help me make money 🙂 jk don't that game is poop.
What makes RotMG unique?
It is one of the only MMO's with actual gameplay. A lot of MMO's are point/click or target and press. I like that actions matter, even if the consequences can feel a little rough. You can Go from being a GOD to being very dead quickly. It's a good ego checker.
What are the things you love the most in the game?
Honestly at the end of the day… The gameplay is very fun, challenging, and rewarding (sometimes) It's weird but I like dying in the game. It teaches me how to not die. If you allow yourself to learn from mistakes you can become better. That is why we should all embrace our mistakes and skill issues, so we may become free of them.
What would you change?
I think it's incredibly important to change the early game experience to be more informative, exciting, and streamlined. New players need to be made aware of stat pots, the importance of maxing, and the value of feeding pets. Currently, the only way to get this information is from other players/guides. If the game itself showed some of its depth, new players would be more inclined to stick around. I also think a benefit to new and old players if it took less time to achieve 8/8. One way to accomplish this is by making the average lvl 20 have approximately 5 more levels in every stat. Back in the day, the point of the game was to become powerful and reach 8/8. These days the point is to become exalted. 8/8 is now an expectation instead of a goal for many players. Therefore it should be easier to reach that starting point. I believe less players would rage quit if it was easier to 8/8.
What made you want to partner with DECA for creating content?
Honestly, I really wanted some tools to assist me in providing an enjoyable experience for my viewers/the realm community. Anything I can get my hands on to throw at the players helps.
How do you see the game in 10 years?
This game has so much potential it hurts. It depends on you @decagames we love the game, and as a community want to see it reach its true potential. I believe the first step to this is making it more accessible and enjoyable to new players. Once that has happened advertising/putting the game out there more could cause the blowup the game deserves and warrants. You guys have made some great content and improvements to Realm especially recently, but as we all know there is much work to be done. Keep going Deca and with a few changes to the early game experience, the game will pop. Veteran-centric development is good but pleasing us old heads will not cause new players to join and stick around. That isn't to say you should forget about us, but TLDR: new player experience being streamlined, educated and exciting, will be much better for the game than appeasing us.
I believe there's a ton of room for creativity in the game. I ask the community to be receptive to new ideas, and I ask Deca to release new content that is developed with the average player in mind. I also call upon the community to uplift each other and welcome any new players they may find. Be nice to noobs and the game will thrive. Thank you.