Interview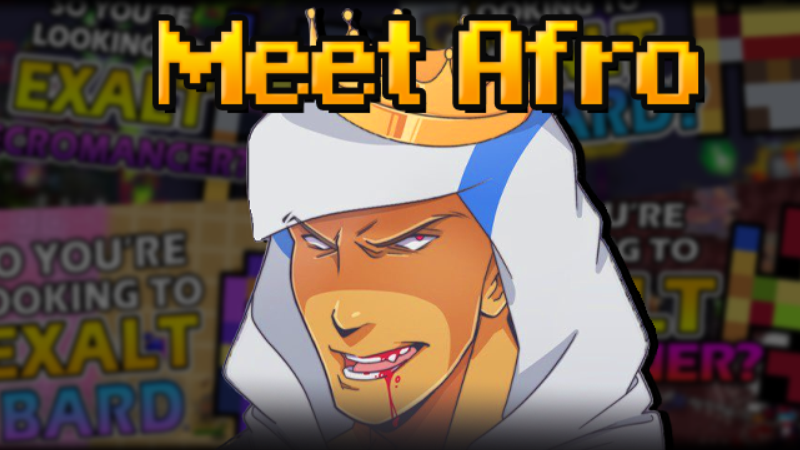 His name is Isaac,19 years old, and he's from England. You may know him as Leucoryx, Aphrow or Aphrew. He's one of our partnered content creators and one hell of an editor. Meet Afro.
Is making content your main activity? If not, what is your day job? Tell us about it.
Like most other people my age, when I was younger I always had the dream of becoming a famous Minecraft YouTuber like DanTDM, SSundee, SkyDoesMinecraft, and others. So naturally, my content creation started at humble beginnings, some crappy commentary voiced on my grandad's old work microphone accompanied with choppy footage recorded on Fraps.
Content creation is always something I've been passionate about. As of right now, I'm a student living in London on my second year of an Editing and Post Production course.
To help myself get by as the token broke uni student, I pick up jobs where I can as a freelancer.
Something I am so grateful for is the number of opportunities that have come out of the realm community that have helped me progress in my career. For example, my main client is a League of Legends YouTuber named Vars, I befriended him when he was still creating RotMG content and I'm working with him to this day. I pick up other jobs from other clients too.
I get the occasional message on discord like "hey can you make me a thumbnail?" and I'm always happy to help with that. I even did thumbnails and small graphics for free for the old CONTENT members when that guild was around. (I'll miss the guild :'D)
My latest project has been for my friend Joel, DeSloth in RotMG. I created a bunch of small twitch alerts, Here's an example.
Any hidden talents or hobbies?
Editing and Motion Graphics. I've dabbled in the realms of graphic design but I'm pretty mediocre at it. I'm also pretty good at baking 😀
Favorite Class, Dungeon, and Item?
My favourite class is Necromancer, I've always been a fan of the group sustain archetype in video games.
My favourite dungeon is Woodland Labyrinth in terms of aesthetic, but in terms of overall enjoyment, I'd have to go with the Fungal Cavern.
By far my favourite item in the game has to be the new lute, the Noble Mandolin, what appeals to me most about this item is it's on-equip stats it grants the user and the unique projectile speed modification on use.
What other games do you play?
I spend most of my time playing League of Legends, I'm a Diamond Jungle main with a bit of a weird champion pool. In terms of Jungle I play Kindred, Lillia, Taliyah and Poppy. However I've dabbled in the other roles just to cover for autofill, I play a lot of Vex and Seraphine in the mid lane and Samira/Aphelios in the bot lane.
Feel free to add me if you're EUWest, ign is Leucoryx 😀
Here's a slightly interesting fact though my alias actually came from my Aphelios one-tricking days, my old Alias used to be Afro/Afrew in pretty much everything,
my friend was like "hey look it's Afrew on the Aphelios". From then on I went by Aph/Aphrew/Aphrow (depending on name availability) on everything apart from RotMG.
Apart from LoL I am a massive fan of fighter games, I used to play Brawlhalla religiously before I quit in season 14. I've recently picked up Guilty Gear: Strive as well which I've taken a huge liking towards. Any Totsugeki enjoyers?
My issue is that I don't really play many games… but the games I do play I end up sinking hundreds maybe even thousands of hours into. I think my steam library consists of maybe 20 games over seven years.
In terms of consoles though I do own a Nintendo Switch. I used to play a lot of Smash Brothers Ultimate, but due to my temperamental internet connection, I've had to give up with the game :/ 
I've been a Pokemon fanatic since I was young, same with my brother. Naturally, my favourite games are the generation 4 bunch. I'm certain I have at least 500 hours in Pokemon Soul Silver on the Nintendo DS. I'm very excited for the upcoming games too.. the generation 4 remakes actually don't look bad in my opinion.
What makes RotMG unique?
Unlike a lot of other MMORPG's, realm is easily digestible, easy on the eyes, and simple to grasp. Shoot enemy, get loot, shoot enemy harder, get loot faster.
What are the things I love most about the game?
A horrendously debauched martyr's skull that has been brought to ruin by foul enchantments of the sulfurous realms.
Tier 7
MP Cost 120
On Equip +120 HP, +40 MP
Damage (some equation)
Defense Ignored 45
Radius 4 tiles
Heal 120
Heal Range 5 (+0.5 tiles for every 10 WIS above 50) tiles
XP Bonus 8%
Feed Power 570
Loot Bag Assigned to Red Bag
Drops From Oryx the Mad God 3
Notes:
Provides a whopping +120 HP on equip (the equivalent of a T4 HP ring), the highest of any skull.
It also does a solid amount of damage (325 at 80 WIS) and ignores a large chunk of most enemies' defense, along with healing the most of any skull.
Also, to be honest, I love the game because it enables me to create the type of content I love. I have a series that is rather well known in the community called "So You're Looking to Exalt". The series is a huge time sink but I love making them. For those who don't know, SYLTE is a series where I basically explain the logistics of fully exalting the character the video is about, builds, process, etc.
As of right now, I have four videos out for this series. SYLTE Wizard was the first, that video is basically just 100% informative. It wasn't until the second video, SYLTE Necromancer where I started experimenting with my crappy attempts at witty comedy. SYLTE Bard was an April Fools prank as everyone was expecting me to fully exalt Mystic… lol. The fourth one is SYLTE Summoner, it wasn't until this video where I had full confidence in the style I wanted to follow for this series, that being half informative and half comedy… It helps with audience retention too.
My next video in this series will be SYLTE Priest. I meant to release it this November but I was on an extended hiatus from the game to focus on my studies… and hitting diamond in League of Legends.
What would you change?
Uhh, good question.
What made you want to partner with DECA for creating content?
I believe I am able to do a lot for the realm community, whether it is giving a voice to those who also want better for the game, or simply voicing my opinions or beliefs which could better the experience for everyone.
Also xjendi my beloved.
Do you have an image of you playing that you would like to share?
No, but here's a screenshot of my friends cat 😀
How do you see the game in 10 years?
I see the game as a lot more polished than it is now, with more UI's, the mainstream introduction of NPCs, Incubation mace will be re-introduced to the game and the Necro will remain the most badass class in the entire game.