Events
Hello Realmers,
This week has been a tough week for all of us. From the Cat-astrophic events on Tuesday with the release of MotMG and several iterations trying to fix the "kill-aura" hack and disconnections on the last couple of days. The good news is that we finally fixed it today and also that we revised the MotMG calendar to add one day to the Lost Halls, Cursed Library, and Ancient Ruins so that you still have time to grind that loot you've been expecting.
We are also making sure everything is ready for next week's big releases: Dungeon Mods on Tuesday, and The Shatters, on Thursday. What are you most excited about? This weekend you get to test it all: Dungeon Mods on Saturday and The Shatters on Sunday.
So, if you want to join us in testing please make sure you have an account set up for Testing. If you have not, please create one, as your existing production account will not work. In order to join the testing servers, all you need to do is click on the top right of the launcher, and select Testing.

What is a Dungeon Modifier?
A Dungeon Modifier is a "rule" that alters how a particular dungeon is played. This means that you can see the same dungeon but with different Dungeon Mods!
There are also different variants of Dungeon Mods, each with a certain level of "intensity", that will add variety to dungeons by introducing variable rules that will alter risk and reward.
You'll be able to learn all there is to know about Dungeon Mods on Tuesday's Release Notes. For now, you can try them out!
We will give you a heads-up when we open the testing servers on our official Discord server.
MotMG Calendar Events and Campaign
As far as our ongoing campaign we want to let you know that the forces from the Void are winning, but by a small margin: 50,9% vs 49,1% from the Daeva. Everything is still yet to be decided.
On the events side, the Third Dimension Chest event that started today will last until August 25th at 12 PM UTC. Tomorrow, at the same time, starts a similar event in the Abyss of Demons. It will end on August 26th at 12 PM UTC.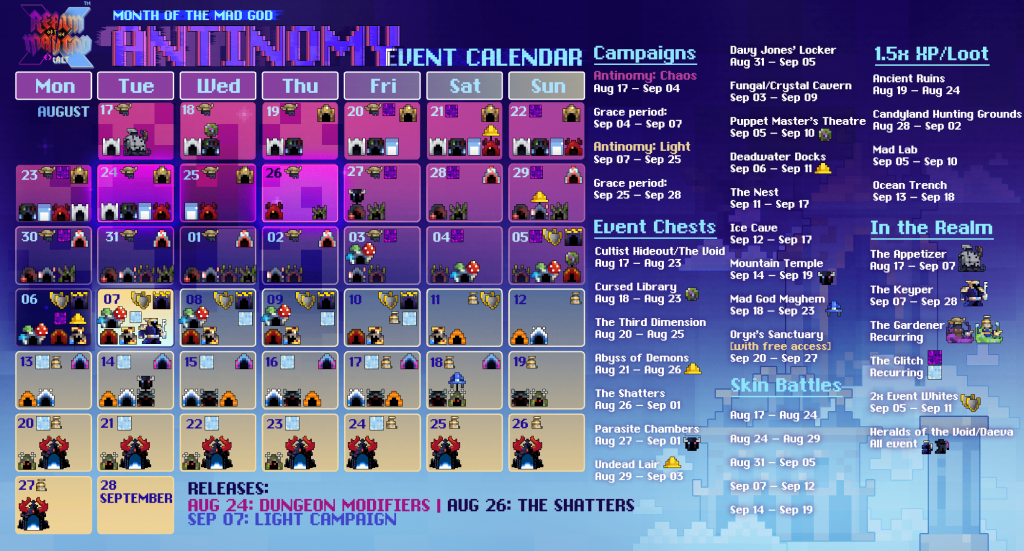 The Third Dimension drops:
Adventurer's Belt
Baby Purple Drake Pet Skin
Backpack
Basic Sulphur
Cloak of Cubic Enigma
Crimson Nildrop
Cuband
Cubic Frame
Cubic Jelly
Dark Ambrosia
Deadly Dapperling
Grapes of Wrath
Greater Sulphur
Large Cronus Square Cloth
Large Hollow Square Cloth
Loot Drop Potion
Loot Tier Potion
Lucky Clover
Mystery Stat Pot
Onyx Nildrop
Polygonal Garbs
Potion of Defense (SB)
Potion of Max Level
Potion of Vitality (SB)
Seal of Cubic Conundra
Shadow Serpent Sidearm
Shard of the Mad God x1
Small Cronus Square Cloth
Small Hollow Square Cloth
Squaroid Staff
Superior Sulphur
The Third Dimension Key
Time Traveler Trickster Skin
Transcendent Penguin Pet Skin
Wine Cellar Incantation
Wizard Mystery Skin
The Abyss of Demons drops:
Abyss of Demons Key
Adventurer's Belt
Azure Nildrop
Backpack
Crimson Nildrop
Dark Ambrosia
Deadly Dapperling
Demon Blade
Demon Frog Skin
Fire Battlemaiden Wizard Skin
Fitted Construction Vest
Grapes of Wrath
Hammer Sword
Heavy Construction Vest
Horned Wyrm Pet Skin
Huntress Mystery Skin
Laborer's Hard Hat
Loot Drop Potion
Loot Tier Potion
Lucky Clover
Magic Construction Vest
Measuring Wand
Mini White Demon Pet Skin
Molten Mantle
Mystery Cloth (Large)
Mystery Cloth (Small)
Mystery Dye (Accessory)
Mystery Dye (Clothing)
Mystery Stat Pot
Nail Gun Bow
Operator's Hard Hat
Potion of Attack (SB)
Potion of Max Level
Potion of Vitality (SB)
Sawblade Katana
Scorchium Stone
Screwdriver Staff
Shard of the Mad God x1
Spatula Dagger
Sword of Illumination
Wine Cellar Incantation
We would also like to thank our Discord community member Flaps, that created the tool to make those loot infographics. Let him know in the comments section how much you appreciate his work.