Interview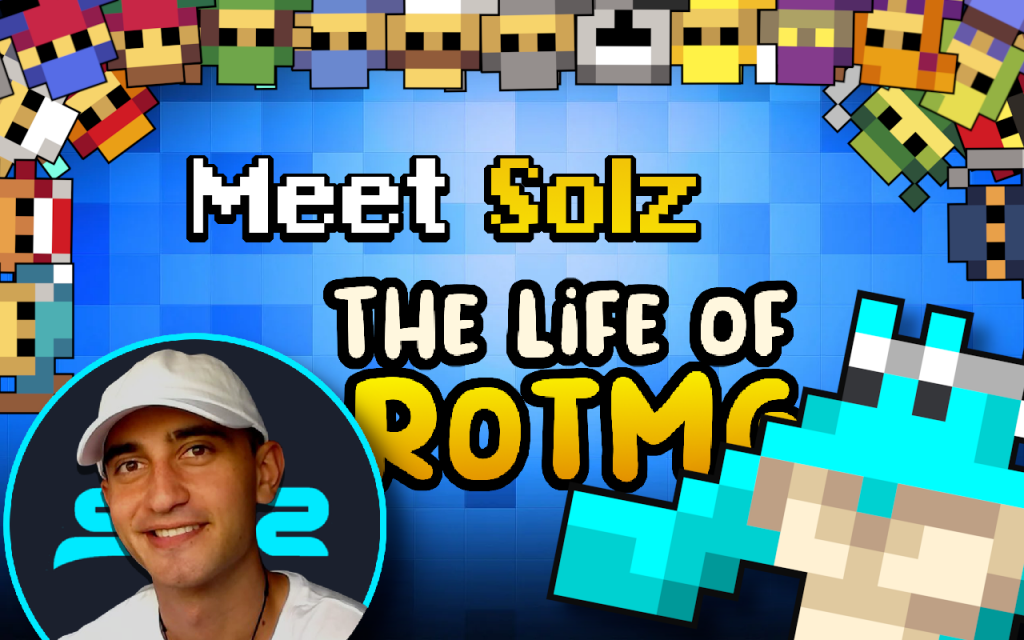 His name is Phoenix J Stryker, a 23-year-old Maori/European that lives in New Zealand and is one of our most recent partnered content creators. Meet Solz.
Is making content your main activity?
Actually no, although I wish It was, my main activity is Software Development and Aviation (Fixed wing). I work contracts for web development companies and Fly commercially for Air Ambulance on call. All pretty fun stuff!
Tell us about it. Any hidden talents or hobbies?
I love Adrenaline sports whether that be downhill mountain biking, snowboarding, wakeskating, or flying fixed-wing aircraft.
I also live on a farm and very much enjoy being a "Jack of all trades" as we call it.
How and when did you start playing RotMG?
I was 10 I believe at the time when my brother and I finished playing age of empires and decided to play an adventure game… We went through many MMOs and finally landed on RotMG. The next step for MMOs… 'permadeath'. It will always be an astonishing game to play with my brother and never seemed to stop giving off other ways of playing the game while I was recovering from sickness over a few years it was perfect for me. 
Favorite Class, Dungeon, and Item?
It would be unfair to say If I have a favorite class because I love them all. Whether I'm grinding Specific areas of the game I tend to switch between them all the time. So…ALL
My favorite dungeon happens to be the Davy Jones Locker.
This dungeon is a perfect example of how self-explanatory dungeons should be for newer players with great UTs, STs, and Potions.
Not only this, but with treasure rooms available, it makes this dungeon much more relevant to even the most elite player to come for quick loot.
My favorite Item is the Dirk of Cronus… I mean seriously, whether you love it or hate it you have to admit that dagger is come on! so nice to look at.
What other games do you play?
I mean where does the role of string end… I play a lot of different games especially new release games with lots of bugs to have fun with or maybe verse friends in. 
I enjoy strategy games as well.
What makes RotMG unique?
I can only speak for my reasons but Realm of the Mad God has a lot of addicting characteristics to it. 
The core design of the game is extremely elegant and special, Not to mention the share thrill I get when building a character and risking it in dungeons is fun! (for me)
Not only this but being able to make realm 'YOUR' game and do whatever you want, whether that be on your own, with friends, or joining a public realm/dungeon crawl.
I think being able to play a game with friends whether you have a bad computer or not is the main reason I've loved RotMG for so long.
I'm looking forward to changes in the game that will open it to new players like it had done in the past and I relish the chance to join in those changes.
What are the things you love the most in the game?
I love playing with friends and making content that others will enjoy.
What would you change?
This is hard… If I had a sheet of A5 paper with a cloud around this question… It would look like a word art drawing by the end of it…
There are so many changes that this game needs that to some extent it could be considered fatal. Whether it regards, New player experience, Quality of Life changes, Rebalances, advertisements, and so forth.
Our job as content creators is to assist in bringing the balance back and voicing the communities concerns. I will be doing this to help us set that path back to the top.
What made you want to partner with DECA for creating content?
I saw a lot of opportunities working with DECA to share my insight on what the community was saying and also receive insight from what they see. Of course, in most mindsets receiving gold is amazing but for years now I've been unable to spend gold on RotMG and have played just fine. with the changes including Battlepasses and other wallet dusting ideas, I wanted to help make sure that players who are not able to spend like myself are still valued.
How do you see the game in 10 years?
I hope to see the game prosper and have evolved while keeping a more positive core user experience and I look forward to finishing my journey on RotMG and coming back to see what difference I might have made.