Events
Realmers!

Ah February, a full month full of love and gifts for the ones you love. While it's the season where hay fever starts, it's also the season where we are once again bringing you events! So you may have a running nose, but you can now play gardener in Bella's Garden! The Events will also be sprinkled with some love.
But before we go into details about the events, let us quickly update you on the current Kensei situation.

Kensei
We are aware of the current disconnect problems with the Kensei. With yesterday's update, we already fixed several of the issues we encountered in the last weeks. Unfortunately, we are now facing new problems with the class.
The team is already working on a fix for these problems and we hope to have them solved soon.
One of the most common disconnections occurs when dashing after teleporting.
If you encounter a disconnect, please reach out to our support team and provide them with a video of the problem.
We will keep you updated.
Events
Starting on the 11th of February at 12PM UTC, a chest event is going to blossom in the Belladonna's Garden! The event ends on the 15th of February at 12PM UTC.
At the same time on the 11th of February, another chest event is going to start in the Magic Woods! It also ends on the 15th of February at 12PM UTC.
Starting today, you can also do two once-per-account quests to find your other half and bask in the glow of a Soulful Affection.
| | | |
| --- | --- | --- |
| Name | Requirement | Reward |
| Find Your Tender Half | Heart Shard x35 x4 | Gem of Tenderness |
| Find Your Adoring Half | Heart Shard x35 x4 | Gem of Adoration |
Belladonnas Garden drops:
Adventurer's Belt
Amaranth Nildrop
Azure Nildrop
Backpack
Bashing Bride Skin
Bella's Key
Beryl Nildrop
Candy Apple
Chocolate Bonbon x1
Crimson Nildrop
Cupid's Bow
Diamond-Bladed Katana
Eligible Bachelor Skin
Grapes of Wrath
Hanagasaku
Hazel Nildrop
Heartfind Dagger
Hearticles
Heartseeker Huntress Skin
Large Pink Dot Cloth
Large Vine Cloth
Little Fox Pet Skin
Little Prince Rogue Skin
Loot Drop Potion
Loot Tier Potion
Lucky Clover
Mystery Stat Pot
Onyx Nildrop
Perennial Cranium
Potion of Max Level
Scarlet Nildrop
Shard of the Intern x1
Small Pink Dot Cloth
Small Vine Cloth
Sprout Slime Pet Skin
Staff of Adoration
Teal Nildrop
Valentine
Valentine's Mystery Item
Vinesword
Wand of Budding Romance
Wine Cellar Incantation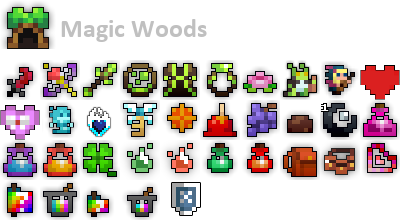 Magic Woods drops:
Adventurer's Belt
Backpack
Beryl Nildrop
Candy Apple
Chocolate Bonbon x1
Cupid's Bow
Enchantment Orb
Fairy Ring
Fountain Child Pet Skin
Grapes of Wrath
Heartfind Dagger
Hearticles
Lifebringing Lotus
Loot Drop Potion
Loot Tier Potion
Lucky Clover
Lyrical Priestess Skin
Magic Woods Key
Mystery Cloth (Large)
Mystery Cloth (Small)
Mystery Dye (Accessory)
Mystery Dye (Clothing)
Potion of Dexterity (SB)
Potion of Max Level
Potion of Speed (SB)
Scarlet Nildrop
Searing Soul Pet Skin
Shard of the Intern x1
Shield of Flowing Clarity
Spirit Staff
The Fiddler Bard Skin
Valentine
Valentine's Mystery Item
Wine Cellar Incantation
Woodland Robe