Events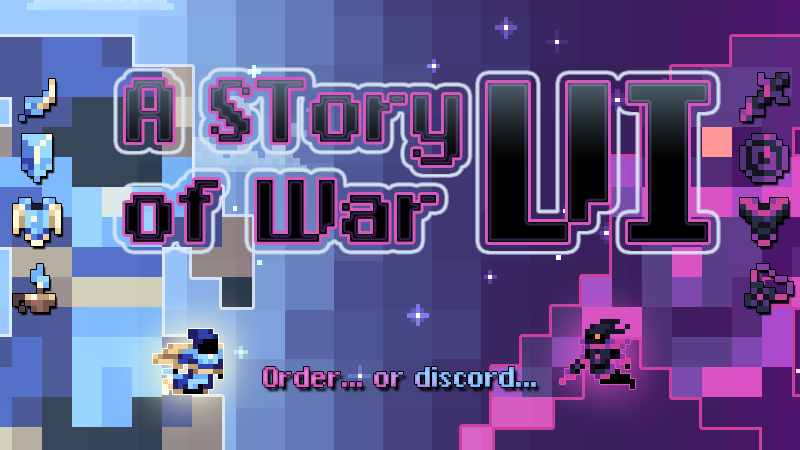 Hello Realmers,
Today we are excited to be announcing the bonus program "Story of War VI." At the end of the post, you'll also be able to see July's login calendar.
We are sure most of you are already familiar with how the Story of War goes, but we will explain it anyway:
The bonus program is a time-limited event that can be accessed in the Shop. It allows players to collect Bonus Points with gold they spend in the Shop (or by directly boosting it via the Boost button) and claim Bonus Rewards. You can collect BP by purchasing Mystery Boxes, Packages, and Items in the Nexus and Cloth Bazar areas with Realm gold.
Please note that slot unlockers and name changing do not count for the bonus program. Fame purchases do not count, either.
Just like with "Story of War V", Avarice Medallions will have an option to reward the Mini Skin, and in two neat quests at the Tinkerer, you'll be able to swap a duplicate mini skin for a new Mystery ST Crate of the same class.
To sum-up:
Start: June 29th, 2021
End: July 15th, 2021 at 12:00 PM UTC
Grace Period: until July 19th, 2021 at 12:00 PM UTC
Quests at the Tinkerer: until July 19th, 2021 at 12:00 PM UTC
The ones beyond the realm's eyes, the Daeva, have been witnessed for the first time in generations. As reticent as ever, their exact goals are unclear. But there is no doubt that they would not reveal themselves if not for sensing some great disruption in the order of the realm.
That disruption is surely related to a more unnerving sight in recent days: Corrupted paladins, wholly subject to the whims of the lingering evil the realm's heroes know all too well. These twisted entities have rejected the holy nature of paladins and embraced a far more malicious force. Powerful, yes, but such strength never comes without consequence.
| | | | |
| --- | --- | --- | --- |
| Ranks | Bonus reward | Total Points | Tier Points |
| 1 | 1 x War STory Chest | 1200 | 1200 |
| 2 | 1 x War STory Chest | 2400 | 1200 |
| 3 | 1 x War STory Chest | 3600 | 1200 |
| 4 | 1 x War STory Chest | 4800 | 1200 |
| 5 | 1 x War STory Chest | 6200 | 1400 |
| 6 | 1 x War STory Chest | 7600 | 1400 |
| 7 | 2 x War STory Chest | 9000 | 1400 |
| 8 | 1 x Avarice Medallion | 10600 | 1600 |
| 9 | 1 x War STory Chest | 13600 | 3000 |
| 10 | 3 x War STory Chest | 16600 | 3000 |
| 11 | 3 x War STory Chest | 20800 | 4200 |
| 12 | 2 x War STory Chest + 1 x Avarice Medallion | 26000 | 5200 |
| 13 | 4 x War STory Chest | 32600 | 6600 |
| 14 | 3 x War STory Chest | 36200 | 3600 |
| 15 | 2 x War STory Chest + 1 x Avarice Medallion | 41600 | 5400 |
| 16 | 6 x War STory Chest | 48600 | 7000 |
| 17 | 2 x War STory Chest + 1 x Avarice Medallion | 53100 | 4500 |
| 18 | 5 x War STory Chest + 1 x Avarice Medallion | 62000 | 8900 |
| 19 | Corrupted Paladin Set + Mini Skin | 72500 | 10500 |
| 20 | Daeva Fighter Trickster Set + Mini Skin | 83000 | 10500 |
July Login Calendar
This is what you'll get on July's Login Calendar:
2x Loot Tier Potion
2x Backpack
1x XP Booster
1x Adventurer's Belt
1x Lucky Clover
1x Mystery Cloth (Small)
1x Mystery Cloth (Large)
1x Common Humanoid Egg
1x Power Pizza
1x Chest Coupon x 1
2x Backpack
1x Greater Sulphur
10x Mystery Stat Pot
1x Shard of the Advisor x35
1x Char Slot Coupon x 1
1x Grapes of Wrath
1x Chest Coupon x 1
1x Crystal of Fortune x20
1x Mystery ST Shard x5
2x Adventurer's Belt
1x Superburger
1x Epic Mystery Skin
1x Epic Quest Chest Item
1x Double Cheeseburger Deluxe
1x Mystery ST Shard x5
1x Shard of the Advisor x35
1x Legendary Mystery Pet Skin
1x Mystery ST Shard x5
1x Ambrosia
1x Crystal of Fortune x20
1x Golden Lucky Clover