Development Update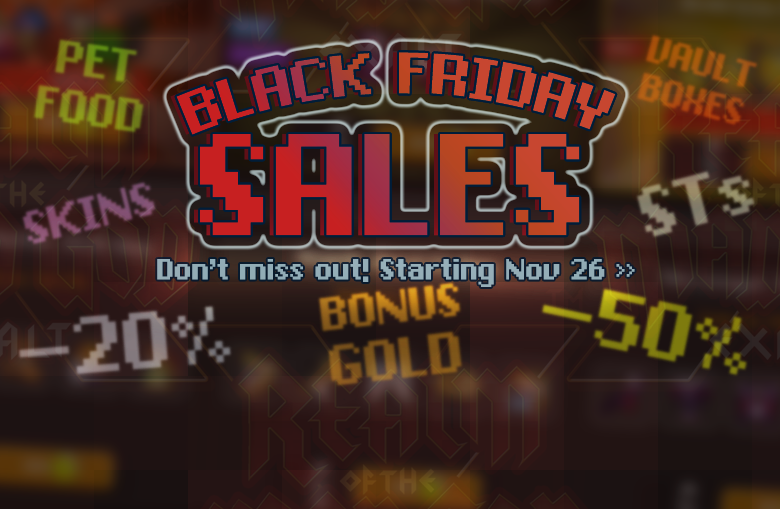 Hello Shiny Realmers,

Happy Thanksgiving to all of our Realmers who celebrate it!
This week has been quite intense, with the release of the Fame Reworks. We can assure you that our team is working around the clock to ensure that the issues that came with it are solved very soon.

We also could not let Thanksgiving and Black Friday go by without showing you some love and appreciation, so here it is:
Thanksgiving
The Free Thanksgiving Pack awaits you in the shop! It contains a delicious Thanksgiving feast: Thanksgiving Turkey, Pumpkin Pie, Sliced Yam, Ear of Corn, and Cranberries.
The pack will be there until 11/30, 8 AM UTC.

Black Friday
Yes, you can buy a pack of 1000 gold for 500 gold. Pretty sweet deal right? It's only once per account, but you can also get a pack worth 2900 gold for 2200 gold or a pack worth 11000 for only 9600 gold.
All summed up, you can get up to 2600 gold for free. Hurry up!

The promotion ends on the 28th at 12:00 UTC.

But it's not all: starting Nov 27th at 12 PM UTC, the next 38h there will be some other extra promotions that you'll be able to catch… by visiting the store.

Enjoy, and stay tuned for more news tomorrow. And we may be prepping a "Ask Me Anything" session for you all. We will reveal the day and how it's going to play out very soon!
Join us on: