Development Update
Welcome back to the Realm Exalt blog! Following up last week, we have more Exalt news to share, a sneak peek at another of Oryx's devious associates, a behind-the-scenes look at a rather infamous piece of cut content, and an exciting announcement for YouTubers and streamers!

Exalt Update

Last Wednesday, we released an Exalt patch with a number of requested fixes and improvements. We're still hard at work on many more, but in the meantime, you should know that an Exalt public testing session is planned to take place next week! Oryx 3 and the Bard class will only be available on Exalt, so be prepared to meet the latest endgame challenge and a fresh face to the class selection screen. More details will follow next week!

Oryx 3: Chancellor Dammah

Last week revealed Treasurer Gemsbok, a dastardly hoarder serving as one of the final obstacles before entering the heart of Oryx's Sanctuary. But three other figures were mentioned as well, and another has come to reveal himself!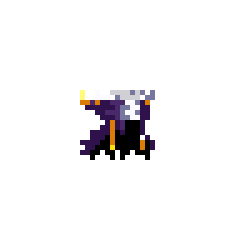 Being the chancellor of an ungoverned land, with a head of "government" who sees himself as absolute, Dammah has long been the invisible hand controlling the formations of their army and keeping order in Oryx's empire.

He is the cold and controlling opposite of Oryx's inflammatory character, but just as insidiously evil. He considers himself a creature of class, much better fit for leadership than fighting. This does not make him a weakling, however, as the many forces that have tried to usurp him and his master have molded him into a cunning foe.

Though his arrogance precedes him, the chancellor's preferred means of combat are vicious. Dammah exhibits a mastery of magic, controlling portals with extreme precision to tear those in opposition to shreds. After all, personal engagement would get blood on his robes.

Chancellor Dammah — alongside Treasurer Gemsbok and two more crooked companions — await your arrival in Oryx's Sanctuary. With over 700 Helmet Runes, 800 Shield Runes, and 1000 Sword Runes in the hands of heroes, access to Oryx's last challenge is not far off.

The Goblin Lair

Some of you may be familiar with a dungeon known as the Goblin Lair. It was announced at the same time as the Lost Halls and The Nest originally were, but never saw a release into the game. The UGC creator of the dungeon (Sues) recently found a number of short video clips from when the dungeon was still in early development, and was generous enough to share this unique perspective with everyone! If unused game content is something you find interesting, we encourage you to check out the Goblin Lair's history!
https://www.reddit.com/r/RotMG/comments/gab6ce/welcome_to_the_goblin_lair/

Content Creator Partnerships

We'd like to congratulate Sebchoof, one of the more popular Realm streamers, who got partnered on Twitch recently! As the full release of Realm Exalt draws nearer, we are interested in seeking other YouTubers and streamers who would be interested in cooperating with us! If you are a content creator with interest in this possibility, please contact aimzer@decagames.com with the following information.

IGN
A link to your YouTube and/or Twitch channel
Number of subscribers
Approximately how often you stream or release a video
What you would expect from us in terms of cooperation
That concludes this week's blog! We will continue providing news and information here each Friday, so please let us know if there is anything else you would like to see!