Development Update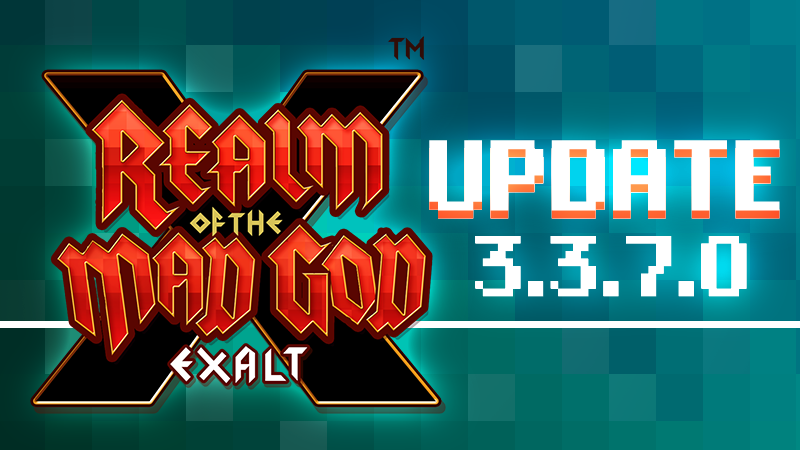 Realmers!
Easter and its events are coming to an end. We had a full month of Events and a community campaign and it's now time to move forward with the next update. You already tested some of the changes coming up to Realm of the Mad God, like the O3 changes and Moonlight Villages adjustments. Additionally, our newest STs for the Priest and Ninja now drop from specific dungeons. To celebrate this we are hosting events in them. The April Fool Skins will be removed with this update.
Oryx 3 Adjustments
The Oryx 3 fight has shown a lot of issues as time progressed, generally as time goes on we expect for bosses to get more optimized. Oryx 3 however has in some cases been optimized to the point where the boss is incapable of attacking for the majority of the fight. The primary culprit of this is the counter/stagger system, as it currently exists dealing enough damage quick enough will instantly cancel any attack oryx is doing and force him into a reset. Coupled with many instances where O3 is vulnerable to damage while not doing anything and you can blow away most of the fight with oryx barely shooting a single bullet. The following changes should keep the majority of the fight intact while still rewarding good gameplay and patching up a lot of the above issues.
The O3 counter/stagger system has been fully retooled, now instead of getting the counter or stagger at the end of an attack, O3 will fully complete all of the attacks in a combo chain. When you hit a certain threshold of damage in each phase, o3 will go invulnerable for the remainder of the attack and add to a tally of times the threshold was reached in the combo, at the end of the combo O3 will enter a stagger state with a duration depending on how many of these thresholds was reached over the course of the combo. When hitting a threshold an attack will end a little bit faster than if that threshold was not hit and the attack fully played out.
The thresholds have been normalized to 3.5% for all o3 attacks, this is not a final value, but was chosen to hopefully allow well played solos to still hit these thresholds on occasion. Additionally if you happen to have a stagger occur near the bosses next phase transition, the stagger will allow you to push up to 5% of Oryx's hp into the next phase. If you hit a phase transition with a stagger count of 2 or higher a stagger will automatically occur as if the combo chain ended there.
Oryx now only does combos of length 2 or 3 before he becomes exalted, and will only do combo chains of length 4 or 5 while exalted. This should allow you to get staggers more often in the earlier parts of the fight but need to last through longer attack chains in the later parts.
O3 has had some of his phase transition points changed in order to shift a little more of the fight into later phases and speed up the portions that players generally find less engaging.
The threshold changes are as follows:
Portals 80% -> 85%
Dance 60% -> 70%
Exalted 50% -> 55%
Celestial Unchanged – 40%
Heavens 20% -> 15%
Death 5% -> 1%
Counters have been entirely removed from the fight.
Invulnerability has been added to the windows at the start of attacks and between combos as o3 is resetting to the center. This should cut down on the "free" damage windows present in the fight as they had previously been contributing to the fight being steamrolled in higher dps groups.
The hp scaling for player counts 2-5 has been increased from 25% to 35%, this only increases the health gained at those player counts, scaling beyond the 5th player is unchanged.
Celestial caps damage dealt at 20% of O3's HP during that phase, this will not longer let you kill him entirely during that phase but, coupled with the stagger at the end, will let you push all the way into heavens and even cut into its hp pool a bit. When combined with subsequent the stagger this totals to 25% damage from a single celestial.
Each Oryx 3 attack now has a third attack it can chain into, this was done to counteract the loss of chain variety caused by the removal of Counters, reincorporating the lost "Guarded Chains" by splitting them into the attacks that lost them and the attacks that previously had staggers.
Oryx now has a 50% chance to grant an additional Life Exaltation when defeated.
Over our testing periods, we have received a lot of feedback, both positive and negative. While it may disappoint some of you to see these changes make it Live, we, unfortunately, were not able to get the full data that we wanted for the system on testing. What we did get was very promising, resulting in a nearly imperceptible time difference from a production run, and solving the issues we set out to solve. As such these changes will be going live, but should the system prove to be overall negative after players have gotten used to it, revisiting it or rolling it back will be on the table. That said, we do believe if you give the changes a shot, once you get used to them you will find them rather positive.
Moonlight Village Fixes
Fixed multiple typos in text from NPCs.
Fixed all Fishing Rods to have proper cooldowns.
Increased the lifetime of the summons from Flowering Kimono, Sage's Wakibiki, and Ethereal Happi by 3 seconds.
Increased range
Removed player scaling on the Ethereal Shrine lantern mechanic.
Umi flames now flash white before exploding.
General improvements to stability and performance.
ST
The Onmyoji Ninja Set will drop from the Lair of Shaitan.
The Plague Doctor Priest Set will drop from High Tech Terror.
Both will also drop from The Nest and Kogbold Steamworks.
Events
To celebrate the introduction of the ST Sets into dungeons, we will be hosting a Chest Event in the following dungeons from the 25th of April until the 2nd of May:
Lair of Shaitan
High Tech Terror
The Nest
Steamworks
Chest Event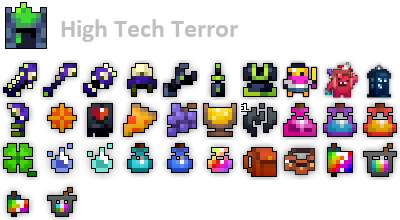 High Tech Terror drops:
A.R.M.O.R.
Adventurer's Belt
Ambrosia
Azure Nildrop
B.O.O.M.
B.O.W.
Backpack
C.L.A.W.
E.Y.E.
Fries Huntress Skin
Grapes of Wrath
Grub Pet Skin
High Tech Terror Key
Loot Drop Potion
Loot Tier Potion
Lucky Clover
Mystery Cloth (Large)
Mystery Cloth (Small)
Mystery Dye (Accessory)
Mystery Dye (Clothing)
Mystery Stat Pot
Potion of Life (SB)
Potion of Max Level
Potion of Wisdom (SB)
Power Pizza
Q.U.I.V.E.R.
S.T.A.F.F.
Shard of the Mad God x1
Shield Rune
Synthwave Rogue Skin
Teal Nildrop
Time Traveling Phonebox Pet Skin
Wine Cellar Incantation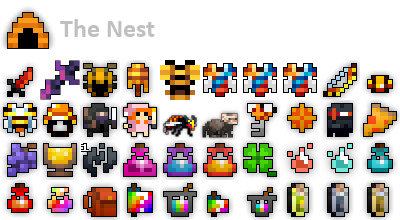 The Nest drops:
Ambrosia
Apiary Armor
Arms Merchant Assassin Skin
Backpack
Basic Sulphur
Beehemoth Armor
Beehemoth Armor
Beehemoth Armor
Fallen One's Blade
Ferret Pet Skin
Flame Guard
Grapes of Wrath
Greater Sulphur
Hivemaster Helm
Hivemind Mace
Honey Circlet
Honeytomb Snare
Killer Bee Queen Pet Skin
Loot Drop Potion
Loot Tier Potion
Lucky Clover
Mystery Cloth (Large)
Mystery Cloth (Small)
Mystery Dye (Accessory)
Mystery Dye (Clothing)
Mystery Stat Pot
Nectar Crossfire
Potion of Dexterity (SB)
Potion of Life (SB)
Potion of Max Level
Power Pizza
Queen's Stinger
Scarlet Nildrop
Shard of the Mad God x1
Sleepover Sorcerer Skin
Superior Sulphur
Sword Rune
Teal Nildrop
The Nest Key
Wine Cellar Incantation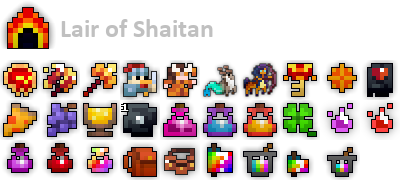 Lair of Shaitan drops:
Adventurer's Belt
Amaranth Nildrop
Ambrosia
Backpack
Capricorn Pet Skin
Chicken Knight Skin
Crimson Nildrop
Fiery Katana
Fire Goddess Mystic Skin
Grapes of Wrath
Loot Drop Potion
Loot Tier Potion
Lucky Clover
Mystery Cloth (Large)
Mystery Cloth (Small)
Mystery Dye (Accessory)
Mystery Dye (Clothing)
Mystery Stat Pot
Potion of Attack (SB)
Potion of Max Level
Potion of Vitality (SB)
Power Pizza
Sagittarius Pet Skin
Shaitan's Key
Shard of the Doorwarden x1
Shield Rune
Skull of Endless Torment
Staff of Eruption
Wakizashi of Crossing Fires
Wine Cellar Incantation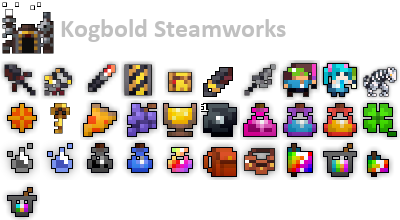 Kogbold Steamworks drops:
Adventurer's Belt
Ambrosia
Azure Nildrop
Backpack
Brain Cube
Chain Dagger
Grapes of Wrath
Kogbold Cower Shield
Kogbold Maid Pet Skin
Kogbold Steamworks Key
Laser Pointer
Loot Drop Potion
Loot Tier Potion
Lucky Clover
Mystery Cloth (Large)
Mystery Cloth (Small)
Mystery Dye (Accessory)
Mystery Dye (Clothing)
Mystery Stat Pot
Onyx Nildrop
Overclocking Amulet
Potion of Defense (SB)
Potion of Max Level
Potion of Wisdom (SB)
Power Pizza
Scepter of Rust
Shard of the Doorwarden x1
Steam Pipe
Synthwave Warrior Skin
Titanium Rex Pet Skin
Twintailed Vocalist Bard Skin
Wine Cellar Incantation
Mystery Summoner and Kensei Skin
Those two skins were missing for the Mystery Skin series and are now in the game. You can get them via the following quest at the tinkerer:
Quest Name
Quest Requirements
Rewards
Quest Type
Mystery Classes
Mystery Mystery Skin
Mystery Summoner Skin
Mystery Kensei Skin
Item of Choice Repeatable

The quest is up between the 25th of April and the 2nd of May at 12 PM UTC.
Free Pack
As you know, we canceled the Moonlight Party Event but decided to give everyone all the rewards. You will be able to claim your free pack in the shop. The pack is available until the 2nd of May.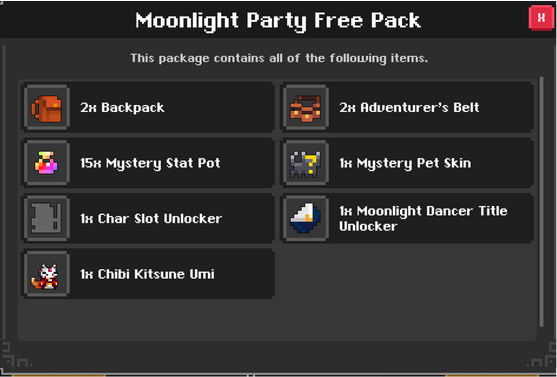 Miscellaneous fixes
Fixed a bug where syndicate minions would incorrectly alter the completion count of dungeons.
Fixed a sound bug with the item Steam Pipe.
Vile trap should now give its proper passive stats.
Cloak of Eerie Trepidation now has dismantle value in forge.
Changed the Battle Pass Coupon description to make it more clear that 1 coupon equals 10% discount.
Festive Cogs no longer drop in Santa's Workshop.
Fixed an issue where F.E.R.A.L. temporarily despawns all switches and tentacles during phase 4.
Modded keys now appear in the normal vault properly after season end
Seasonal Vault Expansion item is now sent to Seasonal Vault upon purchase with a normal character.
Fixed some pixel errors on the Oryxmas Sorcerer Skin and Classic Sorcerer Skin