Events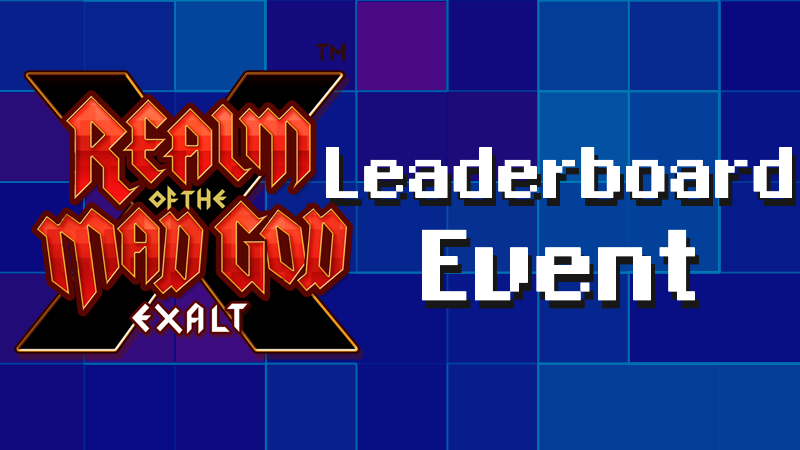 Realmers!
Last week we updated you on the progress on the Seasonal Gratitude Event. Now it's time to reveal if you, as a community, were able to beat our objectives or if the Marble Colossus was able to stay strong.
Additionally, we are launching our first in-game Leaderboard Event today! Go check out all the information about that down below.
"Seasonal Gratitude" Event
Well it shouldn't be a surprise but the community was able to beat all 3 Objectives on their Seasonal Characters! This means that you have earned one week of free O3, and O3 chest event and every player that contributed to the objective will be granted the new Chibi Oryx Pet Skin!

Let's have a look at what you were able to archive.

Objective 1: Required 12750 Points to complete, you were able to collect 13054 Points. That's 102% of the goal.

Objective 2: Required 8500 Points to complete, you were able to collect 16690 Points. That's 196% of the goal.
Objective 3: Required 4675 Points to complete, you were able to collect 7230 Points. That's 155% of the goal.
The O3 event is going live today at 12 UTC and will end on the 12th of December at 12 UTC.
O3 Chest Loot
Angel's Fanfare
Avarice
Backpack
Ballistic Star
Battalion Banner
Centaur's Shielding
Chancellor's Cranium
Chaotic Scripture
Collector's Monocle
Diplomatic Robe
Divine Coronation
Divinity
Enforcer
Exalted God's Horn
Gambler's Fate
Genesis Spell
Gladiator Guard
Greater Potion of Life
Greater Potion of Mana
Harmonious Harp
Heavenly Halo
Helmet Rune
Loot Drop Potion
Loot Tier Potion
Lucky Clover
Lumiaire
Mystery Cloth (Large)
Mystery Cloth (Small)
Mystery Dye (Accessory)
Mystery Dye (Clothing)
Mystery Stat Pot
Oryx's Escutcheon
Paramount Mystery Skin
Potion of Max Level
Shard of the Mad God x1
Shield Rune
Superior
Superior Mystery Skin
Sword Rune
Turncoat Cape
Vesture of Duality
Wine Cellar Incantation
Wings of Sanctity
Leaderboard Event

Today the first in-game Leaderboard event "Sulfurous Speed" starts in Realm of the Mad God! We will start this very simple for now since it's the introduction of the Leaderboards feature, but in the future you can expect us to set up different kinds of rewards.
The Leaderboard Event starts today at 12 UTC and ends on the 12th of December at 12 UTC.

Throw yourself into the Sulfurous Wetlands and beat it as fast as possible! It doesn't matter if you are using a regular character or a seasonal one. Additionally all players will gain 1.5 XP and Loot from the Dungeon.
Let's have a look at the prizes.
Rank 1 – 99
Chibi Heart of the Wetlands Pet Skin
"The Sulfurous Speedster" Title
Rank 100 – 999
"The Sulfurous Speedster" Title
How does it work?
For those of you wondering how time is tracked for a Leaderboard, it works like this. Please bear in mind we are still fine tuning this feature so the implementation is subject to changes later.
Whenever a new dungeon is opened and the first player "enters" it, an internal timer starts.
The timer stops when the main boss is killed.
That time elapsed will be added to the score of all players present in the dungeon at that moment, but only if it's their personal best.
If you are outside the dungeon/killed at that moment, it doesn't count.
The system allows you to play as much as you want in the dungeon with any groups or solo, ensuring only your personal best is the one that counts for your ranking position.
Remember we might add additional rules on top of this depending on the configuration of the event, like Leaderboards restricted to "solo" dungeons and such. In all cases we will always respect the "personal best is what defines your score" rule.
In a Leaderboard, your score will appear as "N/A" if your score hasn't been correctly registered. This is because you don't have a "personal best" yet!
A note of interest is that the Leaderboards by design do not track if you get out and then back in to the dungeon, so while the portal is open you have a small time window to nexus and reenter, but you need to get back before it closes and the boss is killed or the timer won't register you. Remember again the timer starts as soon as the first player enters the dungeon!
We hope to read your feedback and impressions on the Leaderboards system.