Development Update
Realmers!
We would like to share an update with all of you regarding the Battlepass launched with the MotMG. As we initially stated, this is a first for us and we have been carefully monitoring it over the past two weeks. Additionally, you can have a look at the Chest Event Content for the Void and the Cultist Hideout which are starting today!
Battlepass
Based on the feedback we received and the data we were able to collect and analyze, we are planning on a first optimization with these new points to reach (see table below).
We would also like to point out that the level 76 of the Battlepass is the full completion point. The three higher levels are to be considered as extra and won't need to be completed for the Battlepass to be considered done.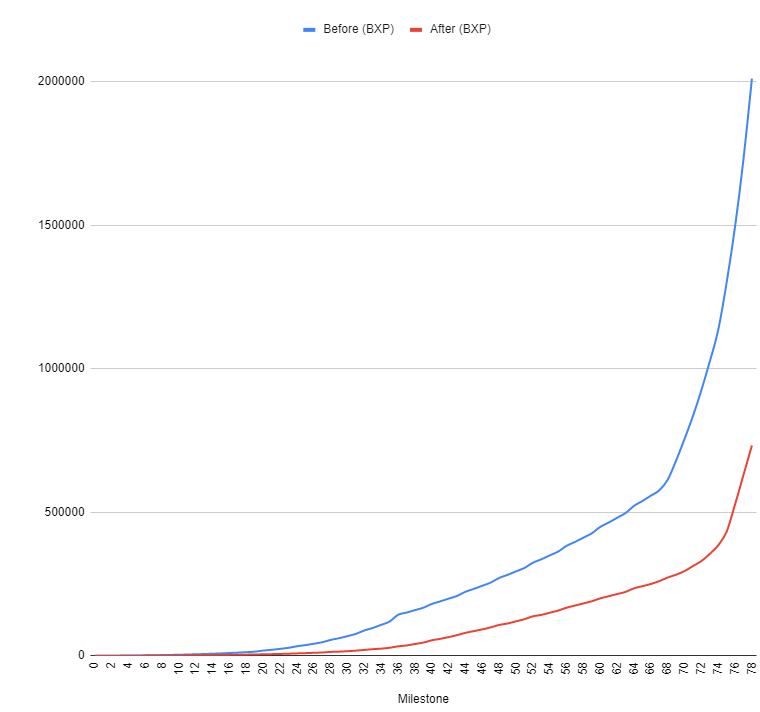 Thank you for your feedback so far regarding the Battlepass. Please keep it coming.
Events
Once again we have new Chest Events coming up! Here is the loot you can expect.
Cultist Hideout drops:
Adventurer's Belt
Ambrosia
Backpack
Basic Sulphur
Bloodshed Ring
Brain of the Golem
Breastplate of New Life
Carved Golem Remains
Grapes of Wrath
Greater Sulphur
Hazel Nildrop
Helmet Rune
Loot Drop Potion
Loot Tier Potion
Lost Halls Key
Lucky Clover
Magical Lodestone
Malus? Pet Skin
Mini Marble Colossus Pet Skin
Mystery Cloth (Large)
Mystery Cloth (Small)
Mystery Dye (Accessory)
Mystery Dye (Clothing)
Mystery Stat Pot
Nightstalker Elf Assassin Skin
Potion of Life (SB)
Potion of Mana (SB)
Potion of Max Level
Power Pizza
Ritual Robe
Shard of the Mad God x1
Skull of Corrupted Souls
Staff of Unholy Sacrifice
Storm Archer Skin
Superior Sulphur
Teal Nildrop
Wine Cellar Incantation
The Void drops:
Adventurer's Belt
Ambrosia
Armor of Nil
Backpack
Basic Sulphur
Bow of the Void
Golem Garments
Grand Enchantress Mystic Skin
Grapes of Wrath
Greater Sulphur
Hazel Nildrop
Helmet Rune
Hero Paladin Skin
Loot Drop Potion
Loot Tier Potion
Lost Halls Key
Lucky Clover
Marble Seal
Mini Void Entity Pet Skin
Mystery Cloth (Large)
Mystery Cloth (Small)
Mystery Dye (Accessory)
Mystery Dye (Clothing)
Mystery Stat Pot
Omnipotence Ring
Potion of Life (SB)
Potion of Mana (SB)
Potion of Max Level
Power Pizza
Quiver of the Shadows
Rusty Cuffs
Shard of the Mad God x1
Sourcestone
Superior Sulphur
Sword of the Colossus
Teal Nildrop
Time Traveling Phonebox Pet Skin
Wine Cellar Incantation