Development Update
Howdy Realmers,
Unfortunately, some unintended interactions related to Court of Oryx dungeons have come to light these days – namely instakill exploits and the ability to quickly access the Court through early game dungeons with the Noble Boss modifier. While we are working on relevant changes which should, if all is well, make their way into the release on Tuesday, it was necessary to postpone the Court event to next weekend. We apologize to those of you who might have been looking forward to it!
And a heads up – to avoid the unintended ability to access the Court of Oryx with unintended speed through early game dungeons, and in order to sync with certain internal optimizations to dungeon modifiers, the Noble Boss modifier will not appear in dungeons and keys from Tuesday's update until the one after Halloween – which should happen in November. After that, it should be properly restricted to dungeons above a certain difficulty level.
Tuesday's release will also be available on the testing server tonight, where you will also find Oryx's Sanctuaries spawning in the Nexus. We would really appreciate your presence there to help us test the stability of the build, and your Oryx 3 skills.
Instead of Janus and Craig, this weekend, from October 8, 12 PM UTC until October 12, 12 PM UTC, Chest Events will be hosted in the Lair of Draconis and Tomb of the Ancients, with the following loot. There will be dragons!
Lair of Draconis:
Amulet of Drakefyre
Backpack
Celestial Blade
Draconis Key
Fire Dragon Battle Armor
Grapes of Wrath
Helm of Draconic Dominance
Indomptable
Infernal Archdragon Pet Skin
Large Ivory Dragon Scale Cloth
Large Red Dragon Scale Cloth
Leaf Dragon Hide Armor
Loot Drop Potion
Loot Tier Potion
Lucky Clover
Midnight Star
Mini Nikao Pet Skin
Mystery Assassin Skin
Mystery Stat Pot
Potion of Max Level
Power Pizza
Shard of the Intern x1
Small Ivory Dragon Scale Cloth
Small Red Dragon Scale Cloth
Superburger
Water Dragon Silk Robe
Wicked Dragon Wizard Skin
Wine Cellar Incantation
Zaarvox's Heart
Tomb of the Ancients: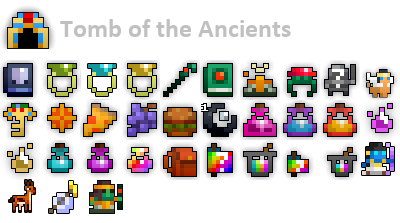 Amaranth Nildrop
Backpack
Book of Geb
Gazelle Pet Skin
Geb's Ring of Wisdom
Grapes of Wrath
Hazel Nildrop
Loot Drop Potion
Loot Tier Potion
Mini Geb Skin
Mini Nut Archer Skin
Mini Sphinx Pet Skin
Mystery Cloth (Large)
Mystery Cloth (Small)
Mystery Dye (Accessory)
Mystery Dye (Clothing)
Mystery Stat Pot
Pharaoh's Requiem
Potion of Attack (SB)
Potion of Life (SB)
Potion of Max Level
Power Pizza
Ring of the Nile
Ring of the Pyramid
Ring of the Sphinx
Shard of the Intern x1
Shendyt of Geb
Superburger
Tomb of the Ancients Key
Tome of Holy Protection
Wand of Geb
Warrior Mystery Skin
Wine Cellar Incantation