Events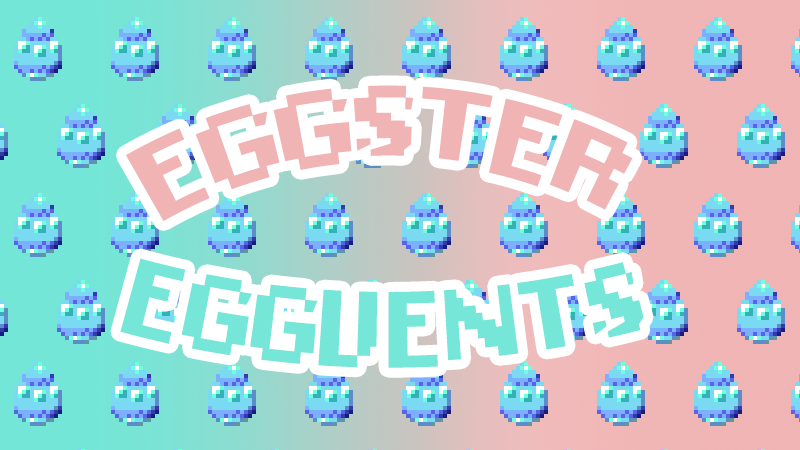 Hello Realmers,
How's that Summoning going? We are excited about these events starting today in the Machine and Deadwater Docks. Of course, it's easter… so there will be lots of eggstra action going on in the Realm as well, and it is the perfect time to get your Easter Knight Set.
In the Realm (03/31, 12:00 PM UTC – 04/11, 12:00 PM UTC in newly generated Realms)
Find Eggs in the Realm and destroy them for a shot at treasure! But be careful – sometimes, Biff the Buffed Bunny will intervene.
The Glitch will spawn in Realms.
The Keyper will spawn after Cyclops Gods and Ent Ancients and will drop Deadwater Docks, Sprite World, The Machine, The Nest, Lost Halls, Fungal Cavern and The Shatters.

The Eggs can drop:
Adventurer's Belt
Amaranth Nildrop
Azure Nildrop
Backpack
Basic Sulphur
Beryl Nildrop
Carrot Cake
Common Ore
Crimson Nildrop
Egg Omelette
Epic Mystery Key
Golden Lucky Clover
Greater Sulphur
Hazel Nildrop
Hot Cross Buns
Legendary Mystery Key
Loot Drop Potion
Loot Tier Potion
Lucky Clover
Mystery Cloth (Large)
Mystery Cloth (Small)
Mystery Dye (Accessory)
Mystery Dye (Clothing)
Mystery Stat Pot
Onyx Nildrop
Rare Mystery Key
Rare Mystery Pet Skin
Rare Ore
Roast Biff
Scarlet Nildrop
Shard of the Mad God x1
Shard of the Mad God x3
Teal Nildrop
Easter Knight Quests
Defeat Bosses at your leisure to obtain the Easter Knight set (03/31, 12:00 PM UTC – 05/03, 12:00 PM UTC)
Easter Quest 1 – Mark of Janus x4 – Eternal Graved Great Sword
Easter Quest 2 – Mark of Janus x4 – Spriteful Shield
Easter Quest 3 – Mark of The Wyvern x4 – Eggre Battle Armor
Easter Quest 4 – Mark of Malus x2 – Tiara of Eggscellent Sturdiness
Easter Quest 5 – Mark of Oryx x4 – Sunny Side Bow
Easter Quest 6 – Mark of the Megamoth x5 – Sakura Wakizashi
Easter Quest 7 – Mark of Ruthven x5 – Botany Book
The Machine Event (03/31, 12:00 PM UTC – 04/05, 12:00 PM UTC)
Null, the Boss of the Machine, will have a chance to drop a Mystery Mystery Skin. Contrary to its name, you can't double click it to receive an April Fools Skin. You can, however, bring it to the Tinkerer for an April Fools Skin of choice! You'll be getting 2x XP at the Machine. In addition, The Glitch will have the chance to drop some appropriate pet skins: the Mystery Rare Pet Skin, Mystery Epic Pet Skin and Mystery Legendary Pet Skin.
Deadwater Docks Event (03/31, 12:00 PM UTC – 04/04, 12:00 PM UTC)
The Chest that spawns after you defeat Jon Bilgewater will drop:
Archer Mystery Skin
Backpack
Basic Sulphur
Beach Assassin Skin
Beryl Nildrop
Deadwater Docks Key
First Mate's Hook
Grapes of Wrath
Greater Sulphur
Green Whale Pet Skin
Loot Drop Potion
Loot Tier Potion
Lucky Clover
Mystery Cloth (Large)
Mystery Cloth (Small)
Mystery Dye (Accessory)
Mystery Dye (Clothing)
Mystery Stat Pot
Naval Uniform
Pirate King's Cutlass
Potion of Life (SB)
Potion of Max Level
Potion of Speed (SB)
Power Pizza
Red Parrot Pet Skin
Roast Biff
Shard of the Mad God x1
Superior Sulphur
Swashbuckler's Sickle
Teal Nildrop
Tricorne of the High Seas
Wavecrest Concertina
Wine Cellar Incantation
Note: There's a much anticipated (and requested) comeback to announce, but we'll leave that to tomorrow…